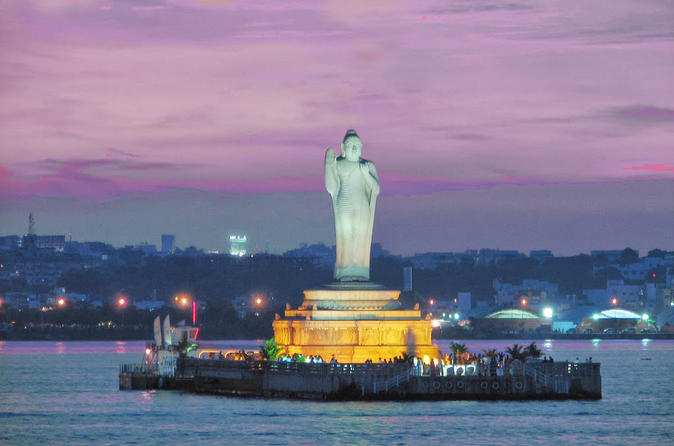 City In Hyderabad | Image Resource : graphicslib.viator.com
The capital city of Telangana, Hyderabad is a home not only to large scale IT industries but also to its most popular hotels, shops, Golconda fort of Qutb Dynasty and the well known Salar Jung museum. The city is a land of many archeological and historical places for which it is frequently visited by art lovers, history enthusiasts, and researchers living all around the globe.
There are many beautiful museums in Hyderabad that displays the collection of artifacts of culturally diverse civilizations
It is the third largest museum in India, spread across an area of 10 acres the museum pieces of Salar Jung Museum includes artifacts collected by Salar Jung III along with Nawab Turab Ali Khan and his descendants. The museum has a collection of close to 43000 art objects, 9000 manuscripts and 47000 printed books. The museum has 38 galleries which are spread in 2 floors. The ground floor of the museum is consisted of 20 galleries while the first floor has 18 galleries. Collection is quite impressive and has artifacts from all across the globe.
Also called Nizam's museum is located in purani haveli exhibits models made of gold and silver. A vintage 1930 Rolls Royce, Packard and a Jaguar Mark V are among the vintage cars on display in this museum.
A P State museum is the oldest amongst all museums in Hyderabad. It is situated inside the public garden of Hyderabad. The archeological museum contains artifacts from nizam, katkatiya dynasty and vast Buddha's gallery.
Natural history museum is fun place for children and wildlife lover. This museum has been confined as the India's best zoo. Though, it is smaller than the Delhi's natural history museum.
Sudha car museum is very unique in list. Its founder K.Sudhakar is well known for its creativeness and designing skills. He holds the Guinness book of world record for making largest tricycle i.e 41 feet and 7 inches tall. The museum has been broadcasted on many national television shows for exhibiting cars of different structures and shapes. His remarkable creativeness and passion for automobiles have made his artifacts priceless.
Hotels in Hyderabad | Image Resource : 3.bp.blogspot.com
In addition, the best part of Hyderabad museums is that they are maintained properly and are paradise for history and art lovers.
Best Hotels in Hyderabad
Hyderabad has a long and increasing list of good hotels. From the Plaza grand Taj Falaknuma Palace that spread over 32 acres to the modern Courtyard, this city is home to some of the luxurious hotels in India. All these good hotels in Hyderabad to cater to booming demand to accommodate visitors of all hues to the city. These hotels provide the experience of history and culture of the city and to experience it one have to have a big budget to stay at one of these luxurious hotels. But people who can't afford to enjoy a lavish stay at Hyderabad's hotels there are many other mid range hotels in the city that include, The Central Court Hotel, The Lime Boutique Suites, Lemon Tree Hotel, Royalton Hotel and so on. Search for these best hotels to make your stay comfortable. So, book your stay in one of these hotels through many travel portals and if you are lucky enough you might crack some deals and discounts on your booking.